Building your network of teachers and resources.
Who do you trust more than other educators for effective classroom ideas?
Education Blueprint is an interactive platform where teachers like you can find, share, and rate resources that help make for better and more equitable learning experiences.
FREE REGISTRATION
Features
Tailored Resources
Access resources tailored to you and the specific levels, disciplines, and Common Core Standards that you serve
Fresh Content
Discover the latest uploads and updates from your areas of interest with the Education Blueprint feed
Help Colleagues
Share your expertise and insight with fellow educators by uploading resources that you have used in your own classroom
Rate and Connect
Rate or comment on resources that others have shared, or message educators on our platform to share your thoughts
Save Your Favorites
Save and curate your own collection of your favorite resources for easy planning and future lessons and activities
Easy to Use
User-friendly interface that makes sharing, rating, filtering, saving and commenting simple and intuitive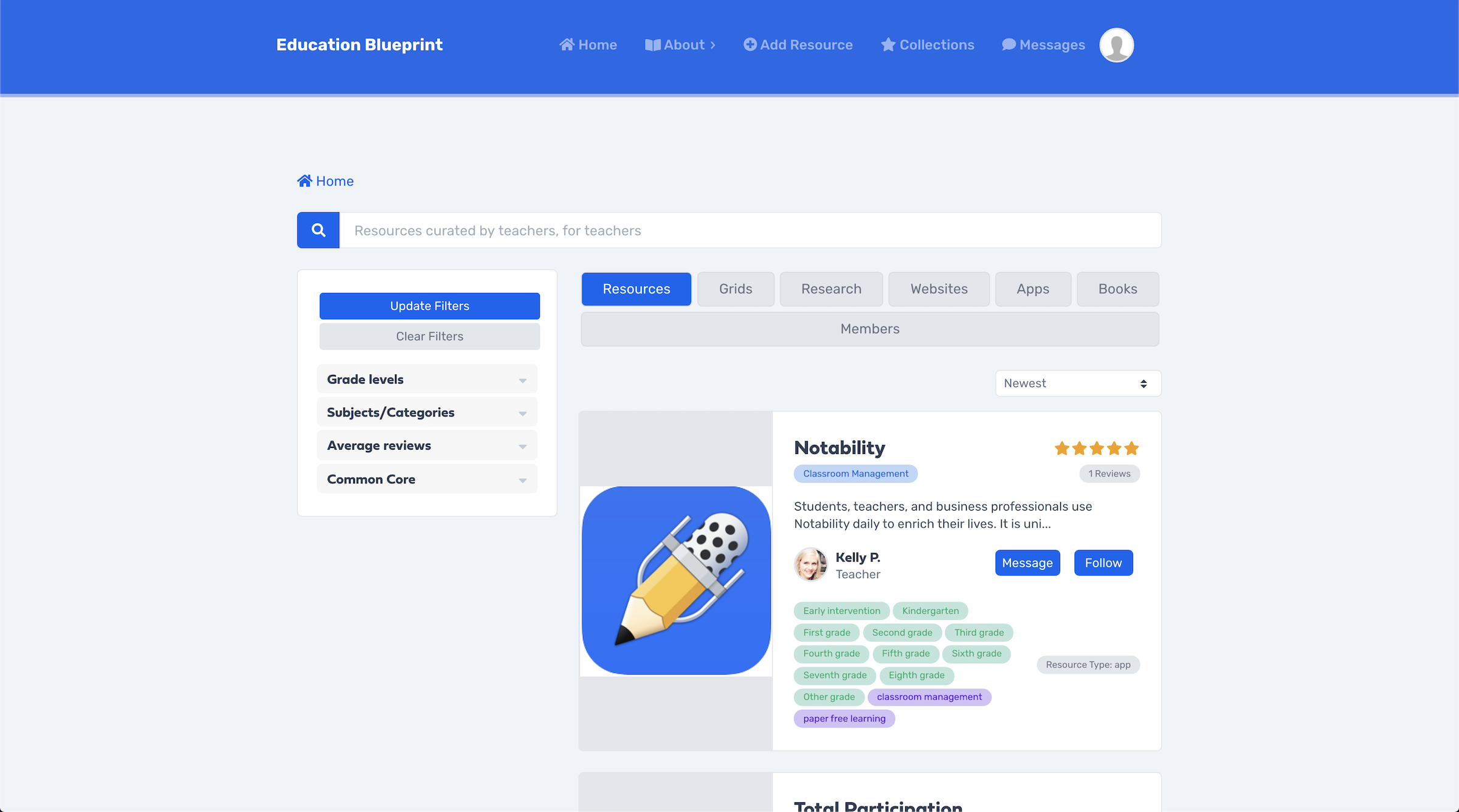 Always Free to Post
We make it easy for educators to find highly rated content and resources shared and vetted by other teachers. Share, access, and recommend educational websites, kid-friendly mobile apps, engaging videos, and emerging research on our platform for free!
Apps and Websites
We share and discover research-based and student-friendly mobile apps and websites that inspire students in the classroom and at home.
Media
Find videos that have been pre-approved and vetted by a community of fellow education professionals.
Downloads
Make use of Word documents and PowerPoints that contain rich content for you to download and easily present.
Research
Learn from the latest emerging research from your discipline, the field of elementary education, child psychology, and beyond.
"Educators now have a platform where they can share lessons, based on different content and grade levels, instead of having to recreate the wheel! It is the best way to collaborate with educators from all over the world!"
Tammy W.
5th Grade Math & Writing Teacher
"This site will be very useful for sharing content and be something I frequent as we are working to update our ELA curriculum next year."
Dina F.
Teacher, West Mifflin Area School District
Teach Smarter, Not Harder.
Your students are going to love learning from highly-rated websites, apps, and papers.
Collaborate Remotely.
You can seamlessly connect with other educators, without having to leave the house.
Ready to access Education Blueprint?
Sign up for free in 5 minutes or less!
---