An interactive K-12 teaching resource built by research and curated by teachers
Who do you trust for good classroom ideas more than other teachers?
Education Blueprint is an interactive platform where teachers like you can find, share, and rate resources that help make for the best learning experiences.
Free registration
Features
Tailored Resources
Access resources tailored to you and the specific levels, disciplines, and Common Core Standards that you serve
Fresh Content
Discover the latest uploads and updates from your areas of interest with the Education Blueprint feed
Help Colleagues
Share your expertise and insight with fellow teachers by uploading resources that you have used in your own classroom
Rate and Connect
Save and curate your own collection of your favorite resources for easy planning and future lessons and activities
Save Your Favorites
Rate or comment on resources that others have shared, or message teachers on our platform to share your thoughts
Easy to Use
User-friendly interface that makes sharing, rating, filtering, saving and commenting simple and intuitive
200+
Disciplines
Dozens of disciplines that span grades K-6, standards, and subjects
3000+
Teachers
Join the thousands of teachers who are contributing and participating
200+
Resources
Peruse and curate from hundreds of teacher-approved resources.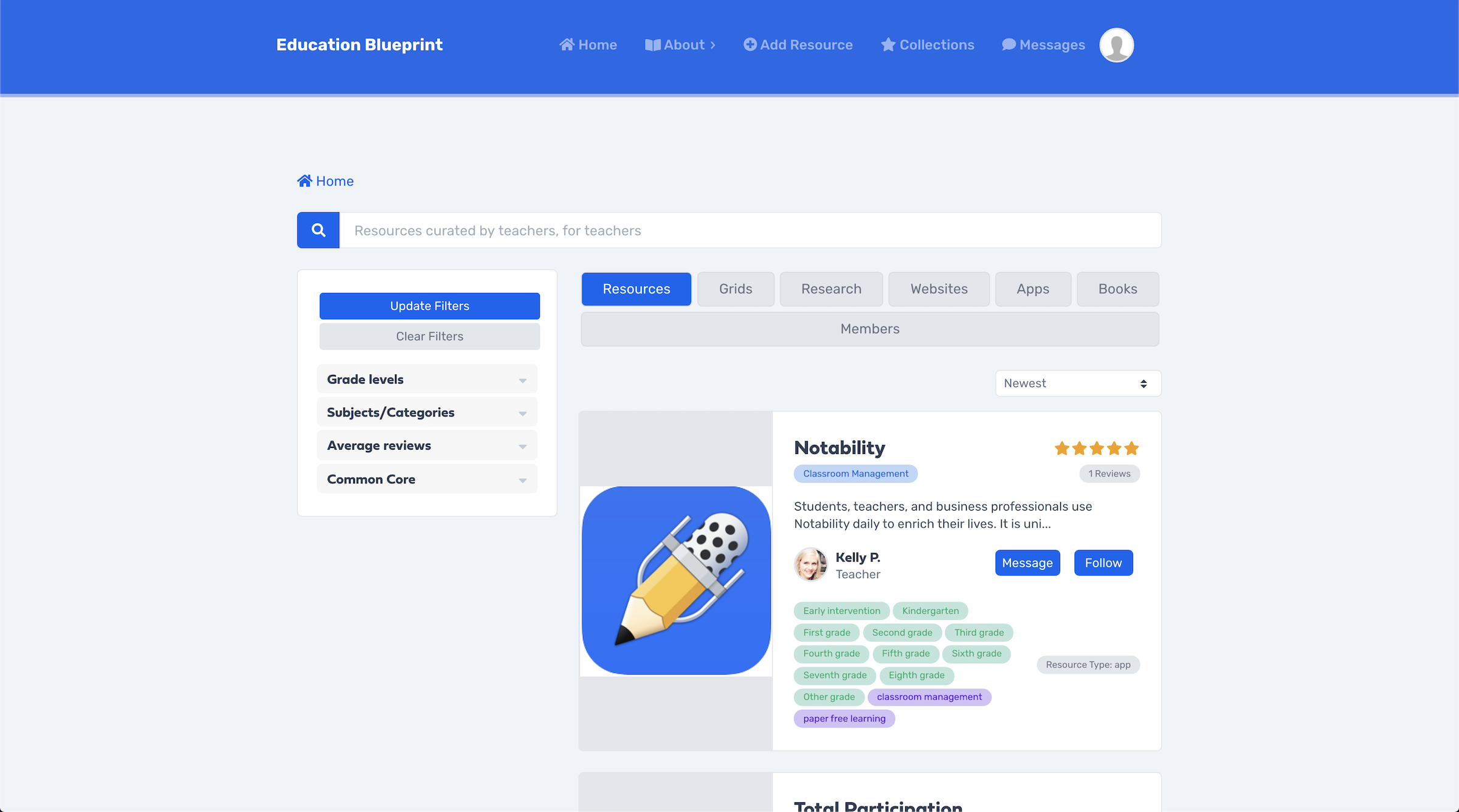 Always Free to Post
We make it easy for teachers to find highly rated content and resources shared and vetted by other teachers. Share, access, and recommend educational websites, kid-friendly mobile apps, engaging videos, and emerging research on our platform for free!
Apps & websites
We share and discover research-based and student-friendly mobile apps and websites that inspire students in the classroom and at home.
Media
Find videos that have been pre-approved and vetted by a community of fellow education professionals.
Downloads
Make use of Word documents and PowerPoints that contain rich content for you to download and easily present.
Research
Learn from the latest emerging research from your discipline, the field of elementary education, child psychology, and beyond.
"Educators now have a platform where they can share lessons, based on different content and grade levels, instead of having to recreate the wheel! It is the best way to collaborate with teachers from all over the world!"
Tammy W.
5th Grade Math & Writing Teacher
"When I started teaching, I didn't realize the power or importance of networking with people not just in elementary education, but throughout different subject areas and grade levels. Education Blueprint gives all educators the opportunity to freely connect with each other, to learn from each other, and to help each other grow."
Nicole K.
6th Grade English Language Arts (ELA) Teacher
Ready to access Education Blueprint?
Sign up for free in 5 minutes or less!
---